Understanding the Manufactured Home Delivery Process
Manufactured homes offer a flexible and cost-effective housing solution for many individuals and families. However, acquiring, transporting, and setting up a manufactured home involves several crucial steps and considerations; every phase requires careful planning and expert guidance. In this guide, you will be provided with valuable knowledge to make informed decisions and achieve your housing goals.
Planning the Delivery Route
Transporting a manufactured home is quite different from regular driving routes. This underscores the importance of working with an experienced manufactured home transportation company.
Professionals in this specialized transportation field understand the unique challenges that may not affect ordinary vehicles. Here are some factors that a secure delivery route should consider:
Lane Width: Narrow lanes can pose space constraints and driving hazards for a manufactured home.
Overpass Clearances: Manufactured homes often have greater heights than standard vehicles, necessitating the avoidance of low overpasses during delivery.
Road Construction: Transportation experts stay updated on road, bridge, and infrastructure repairs to avoid costly delays.
Traffic Jams: Knowledgeable professionals can plan routes that minimize the risk of getting stuck in congested traffic, saving time and costs.
Travel Limitations: Government regulations restrict when oversized loads, like manufactured homes, can travel certain routes.
Pilot Vehicles: State and local regulations may require a specific number of pilot vehicles to accompany the transport of a manufactured home.
The dimensions and weight of your manufactured home influence these considerations.
Additional Equipment
Depending on the destination of the installation of the home, sometimes specialized equipment is needed to help when complex maneuvering is required: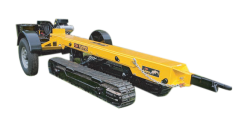 Platypus: Streamlines the process of joining modular or doublewide home halves without the need for traditional jacking or rolling methods.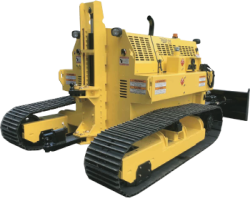 House-Tug: Engineered to excel in confined spaces, adverse weather conditions, and challenging terrains, this machine specializes in effortlessly transporting heavy loads commonly associated with modern manufactured homes.
Jadde: Designed for effortless vertical movement and precise steering of housing units. The Jadde virtually eliminates the need for bridging, cribbing, jacking, and sideways rolling.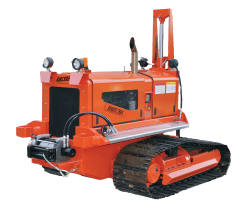 Remote Trax: The Remote Trax is a specialized machine designed for the precise movement of manufactured homes and mobile homes. It adeptly maneuvers these homes around various obstacles using advanced remote control technology, ensuring efficient and hassle-free transportation.
Finalizing the Delivery Process
Before the home arrives, you should ensure you have a clear and safe path created for the equipment to deliver your new home. Ensure trees, shrubs, debris, and obstacles are removed for the height and width required to maneuver safely. Driveways and transport paths need to be firm and flat, to avoid potential damage and any equipment getting stuck. The site should be marked with stakes indicating where it will be placed. Attention to these seemingly minor details can prevent the unnecessary expense of hiring a contractor to correct the home's placement and potential damage.
Upon arrival, a thorough inspection of the home is essential. There should be a reconciliation of the "shipped loose" materials, as these items are needed for the final installation. Before accepting receipt and signing off, note any missing items on the Bill of Lading and report any damage noticed.
---
---